August 2021 Newsletter
Johnson County Museum Event!!
We are so excited to host a new sensory friendly event at the Johnson County Museum this year! This event is for our MEMBERS ONLY. Please renew your membership here and sign up for the event here! We can't wait to see you all on Tuesday, September 28, from 5:30-7:30pm.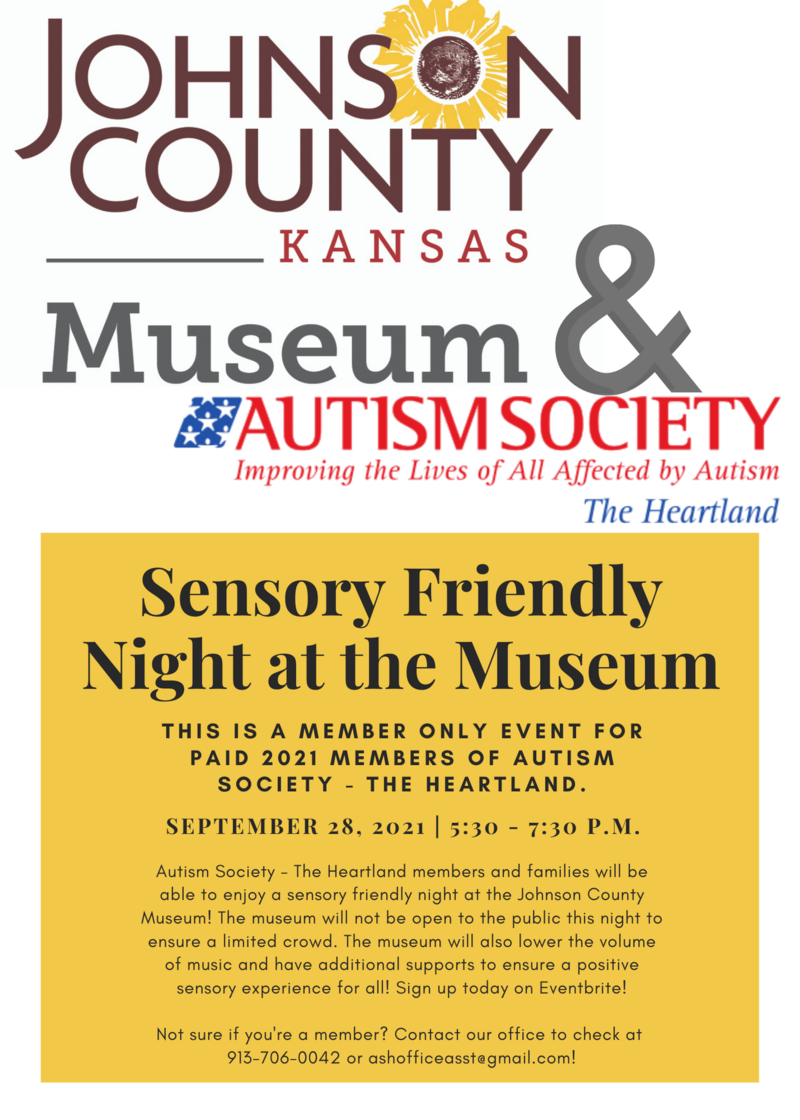 ---
Upcoming Fundraisers
| | |
| --- | --- |
| | |
| Join Autism Society - The Heartland for our 3rd Annual Aces 4 Autism volleyball tournament at Volleyball Beach! There will be a competitive bracket for teams who have done this before, and a recreational bracket for teams new to the tournament scene. All registered players will receive an event t-shirt! Register NOW! | We have RESCHEDULED this event! Join Autism Society – The Heartland for our 1st Annual 4-Man Scramble Golf Tournament at Sycamore Ridge Golf Club! Event registration will include drinks, food, golf towel, green fees, and cart rental! There will also be mulligans and mini-events. This tournament is limited to the first 36 teams, so register today! |
| | |
---
T(w)een Social Group
On August 7 from 10am-12pm the group will meet IN PERSON at Freedom Park in Grandview, MO! We encourage you to bring a blanket, a picnic, and/or your favorite board games or outdoor games to share! Parents are invited! Sign up here on Eventbrite so we know how many water bottles to provide! This a social group for tweens and teens with autism, ages 11-16, who are able to participate in social events with some supervision.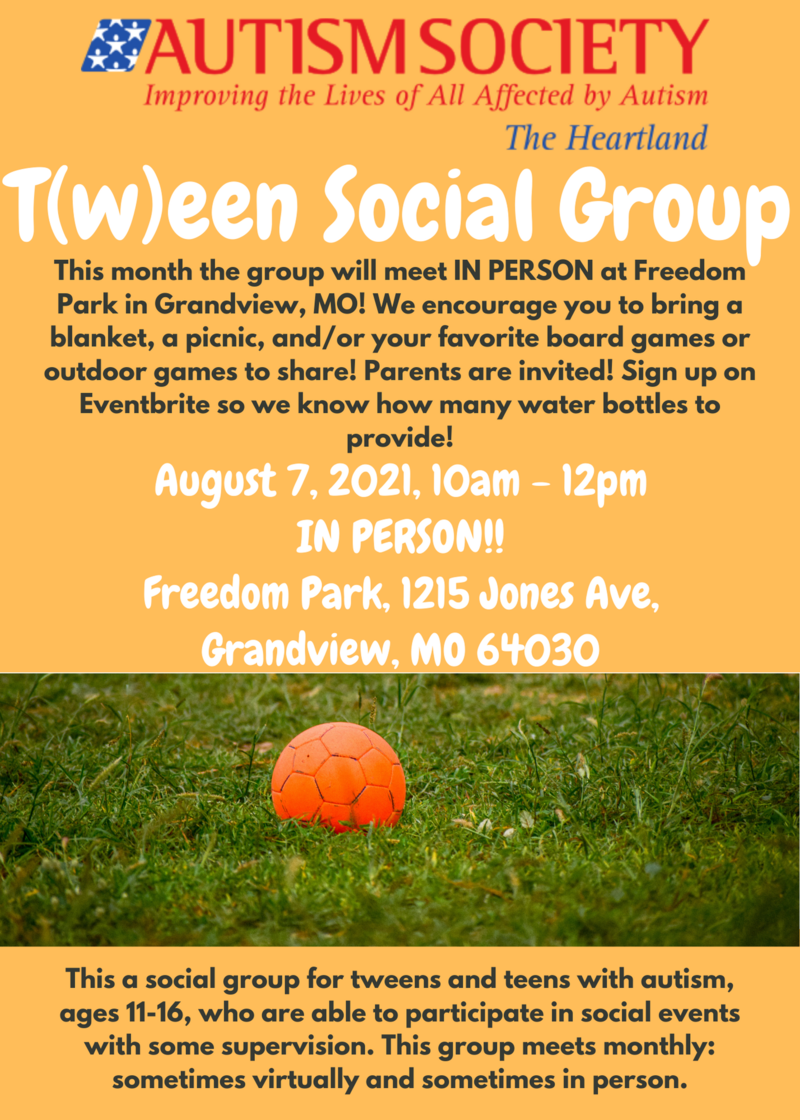 ---
A.W.A.R.E. Activities
A.W.A.R.E. is a group for adults with autism (ages 18+) who are able to participate in group settings without supervision. This group meets monthly, and currently only through a virtual setting.
Nelson-Atkins art classes will resume this fall!
| | |
| --- | --- |
| | |
| Join us August 3, 2021 from 6:30-8:30pm for our virtual A.W.A.R.E. Support Group! This group will be lead by two adult peers with ASD on the second Tuesday of every month. This month's topic of discussion will be "Role Models - Who do you look up to?" Come ready to discuss your own experiences and find support from others in the group. To join this virtual group, please use this Zoom link and the password: 932938. | We are so excited to continue our A.W.A.R.E. (Adults With Autism Recreational Events) social group virtually on August 17 from 6:30-8:30pm. Please register here on Eventbrite for the August Zoom link and password! We will play Pictionary online! Join our Zoom meeting to be given the URL for our virtual Pictionary game! We will play virtually using Skribbl. All artistic levels are welcome! |
| | |
---
Join us August 11 or August 19 for either of our TWO virtual Support Group Meetings! These will be held through Zoom. Please find more information by clicking the date you want to attend!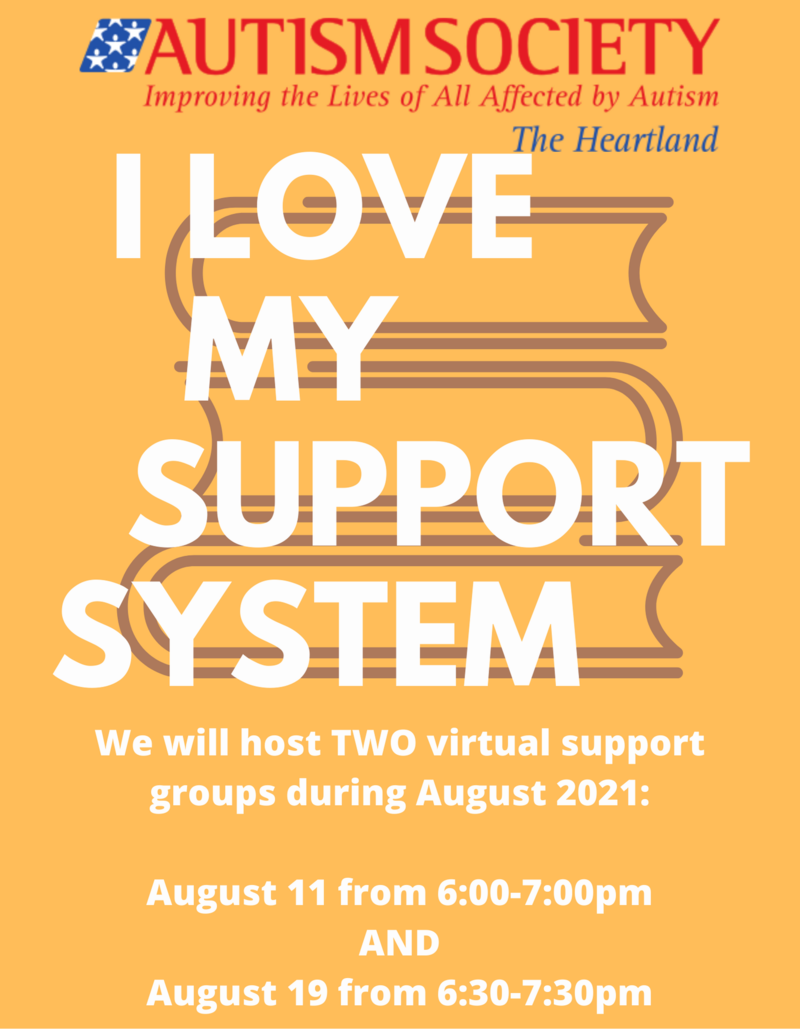 ---
Autism Society - The Heartland continues our Saturday Seminar series with this month's IN PERSON workshop with The Golden Scoop team! Follow this link to register and for more information! Registration is limited for this in-person event.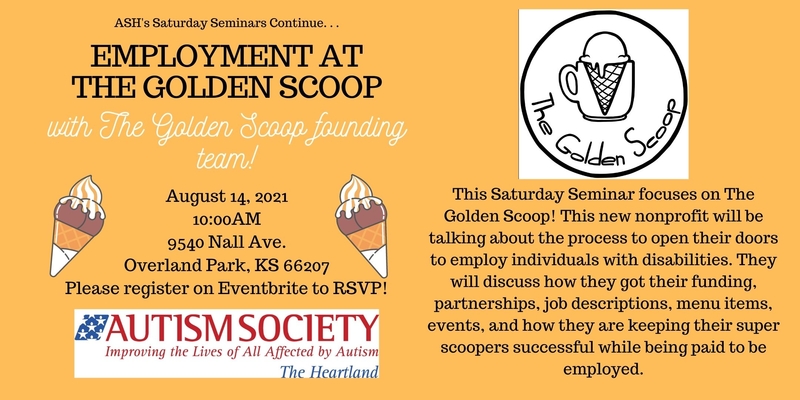 ---
COVID-19 Relief Fund still available!
Autism Society - The Heartland's COVID-19 Relief Fund will provide direct financial assistance to individuals and families for groceries, essential household supplies, activities, and/or caregiver self-care opportunities with a paid, active 2020 or 2021 ASH membership. Please visit our website here for more information and apply here.

---
Research Opportunities
| | | |
| --- | --- | --- |
| Kansas University Center on Developmental Disabilities | University of Kansas Research Opportunity | Kansas Center for Autism Research and Training (KCART) |
| Are you an adult with an intellectual disability who wants a career? The Kansas University Center on Developmental Disabilities (KUCDD) is conducting a study to understand the effectiveness of implementing a career development intervention using telehealth for adults with Intellectual and Developmental Disabilities (IDD). The intervention uses the Self-Determined Career Design Model (SDCDM), an evidence-based intervention designed for people with IDD. If you are interested in learning more about this study or have questions please contact Evan Dean at edean2@ku.edu. | Suma Suswaram is recruiting parents, guardians, and adult caregivers of children with Autism Spectrum Disorder (ASD) for a study that examines the relationship between caregivers' stress and child communication skills. To participate, the parents must be the primary caregiver of children between the age of 4-10 years, with a confirmed or suspected diagnosis of ASD, speak less than 30 functional words. If you or anyone you know might be interested in participating, please contact suswaram_suma@ku.edu. | The BRAIN Lab team is seeking individuals 8-35 years old for our studies of brain and behavioral development in autism spectrum disorder (ASD). Individuals with ASD and individuals without ASD may participate. Due to the COVID-19 pandemic, we are currently conducting remote assessments only. If you are interested in participating in our studies*, follow the link above and click on ENROLL IN A STUDY. For more information about study participation, or to learn about the safety procedures being implemented by our research team, contacting us at (785) 864-4461 or brainlab@ku.edu. |
| | | |
---
August 2021
Due to continued COVID-19 concerns in KS and MO, Autism Society - The Heartland has made the decision to move many of our events to a virtual format. We are continuing to explore options to provide additional virtual options and supports, as well as start to incorporate more in-person events. Our physical office at the KU Edwards Campus will open this month! The office hours starting August 3 are as follows: Mondays, Wednesdays, and Thursdays 8am-12pm; Tuesdays 4:00-8:30pm. You must wear a mask inside Regnier Hall and the ASH office at all times.