January 2021 Newsletter

Membership Renewal
It's time to sign up or renew your membership for the New Year! General memberships are good for each calendar year ending on December 31, 2021. They can be set up to be renewed automatically or manually each year here. Memberships include monthly e-newsletters, free entry to multiple members-only events throughout the year, and opportunities for members-only scholarships and grants! Sign up now to begin receiving membership benefits for 2021!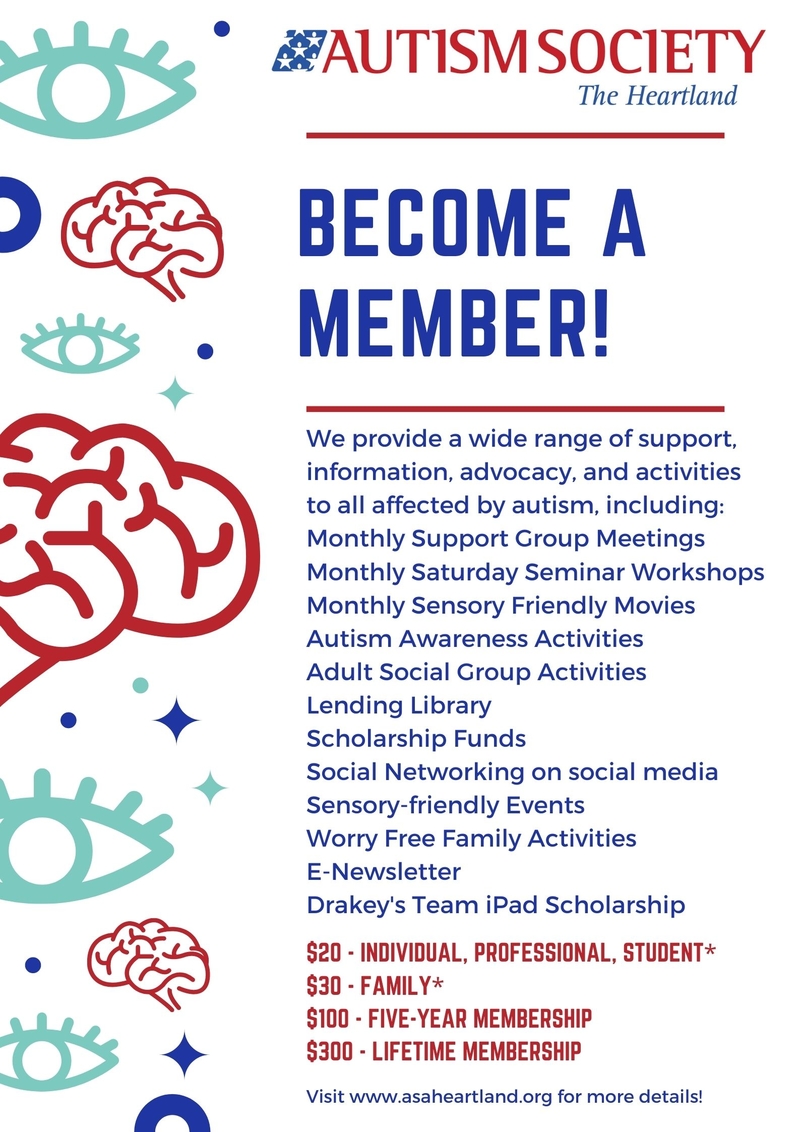 ---
A.W.A.R.E. Karaoke Night
We are so excited to pick back up with our A.W.A.R.E. (Adults With Autism Recreational Events) social group after pausing for a bit due to CoVid-19. Our first monthly meeting will be an awesome virtual night of Karaoke in January! Sign up on Eventbrite here to let us know you will be attending and to receive the Zoom link and password in the confirmation email!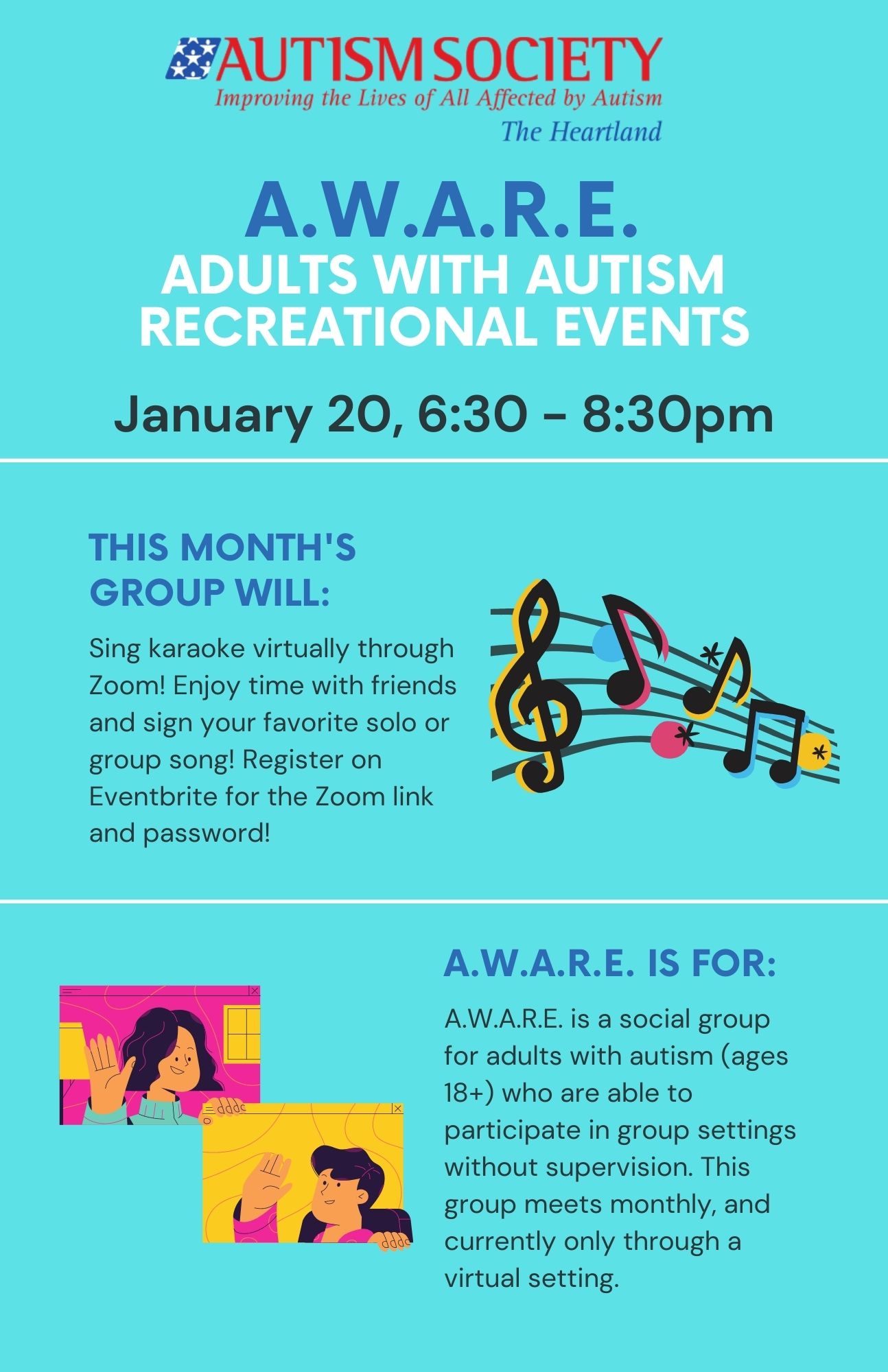 ---
Join us January 13 or January 21 for either of our TWO virtual Support Group Meetings! These will be held through Zoom. Please find more information by clicking the date you want to attend!

---
Autism Society - The Heartland continues its Saturday Seminar series with this month's VIRTUAL workshop Dental Considerations for Patients With Autism Spectrum Disorder

with Dr. John Fasbinder, D.D.S. and Jeff Glasco, CRNA, A.S.A.

! Follow this link to register and for more information!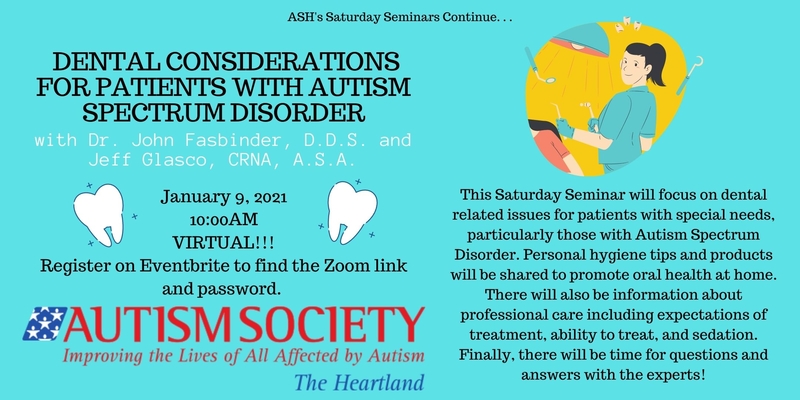 ---
Kansas Center for Autism Research and Training (KCART) Research Opportunity
The BRAIN Lab team is seeking individuals 8-35 years old for our studies of brain and behavioral development in autism spectrum disorder (ASD). Individuals with ASD and individuals without ASD may participate. Due to the COVID-19 pandemic, we are currently conducting remote assessments only. If you are interested in participating in our studies*, follow the link above and click on ENROLL IN A STUDY.

*For more information about study participation, or to learn about the safety procedures being implemented by our research team, contacting us at (785) 864-4461 or brainlab@ku.edu.

---
Kansas University Medical Center Research Opportunity
The University of Kansas Medical Center is recruiting adolescents (ages 11-17) with Autism Spectrum Disorder to participate in a research study about the impact of yoga classes on balance, flexibility, muscle strength, and overall enjoyment of exercise and physical activity. To learn more about the study and to see if your child qualifies to participate, please call 785-766-1944, e-mail bhelsel@kumc.edu, or fill out the interest and enrollment questionnaire at bit.ly/yogalivestudy.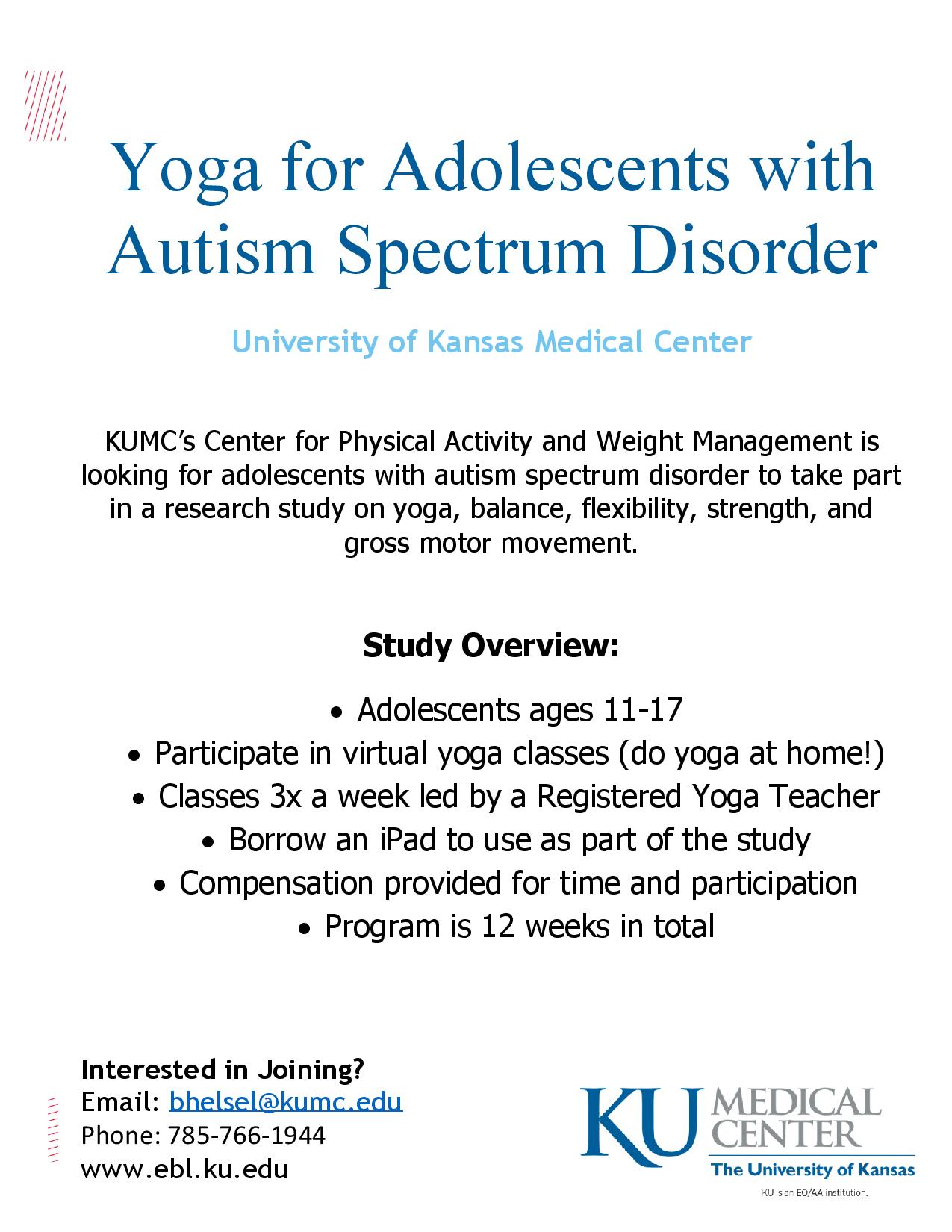 ---
January 2021
Due to continued CoVid-19 concerns in KS and MO, Autism Society - The Heartland has made the decision to cancel, reschedule, or move to a virtual format for our previously scheduled in-person events. We will continue to explore options to provide additional virtual options and supports. Our physical office at the KU Edwards Campus will remain closed throughout the entire month of January as well.