Research Studies
Research is a common topic in the world of autism. As more research is conducted, more strategies can be provided for those living on the spectrum. Below are some research projects currently underway. If you are interested, please contact the agency directly. This page was last updated February 18, 2021.
The University of Kansas
Autism Spectrum Disorder Studies
KU has studies of individuals with Autism Spectrum Disorder (ASD) which aim to characterize sensorimotor and cognitive functioning development in ASD. They interpret behavioral measures and measures of brain function and anatomy to examine the neural mechanisms involved in ASD. These studies are open to individuals ages 10 through 25 years old with a diagnosis of ASD, Asperger's Syndrome, or PDD-NOS.
If you or your child is interested in participating in the ASD study, please fill out this form or contact KU directly via phone (785-864-4461) or email (ndrlab@ku.edu).​
Kansas University Center on Developmental Disabilities
Are you an adult with an intellectual disability who wants a career? The Kansas University Center on Developmental Disabilities (KUCDD) is conducting a study to understand the effectiveness of implementing a career development intervention using telehealth for adults with Intellectual and Developmental Disabilities (IDD). The intervention uses the Self-Determined Career Design Model (SDCDM), an evidence-based intervention designed for people with IDD.
What is the purpose of the study?
The SDCDM supports people to set and work toward career and employment goals. The goal of this study is to evaluate services delivered via telehealth to promote employment for adults with intellectual disability.
How long is the study?
The study will take place over 2 years. The intervention group will meet with a facilitator via video conference once per week for 2 years. The waitlist group will meet with a facilitator once per week for a year starting in February 2022.
Who can participate?
Adults with intellectual and developmental disabilities who live in Kansas and meet the following requirements:1.Can communicate verbally or through a communication device2.Can use technology or will have support to access technology
What are the risks and benefits?
In this study, you can learn more about your self-determination and job experiences. We don't anticipate anything bad happening to you in this study.
Questions?
If you are interested in learning more about this study or have questions please contact Evan Dean at edean2@ku.edu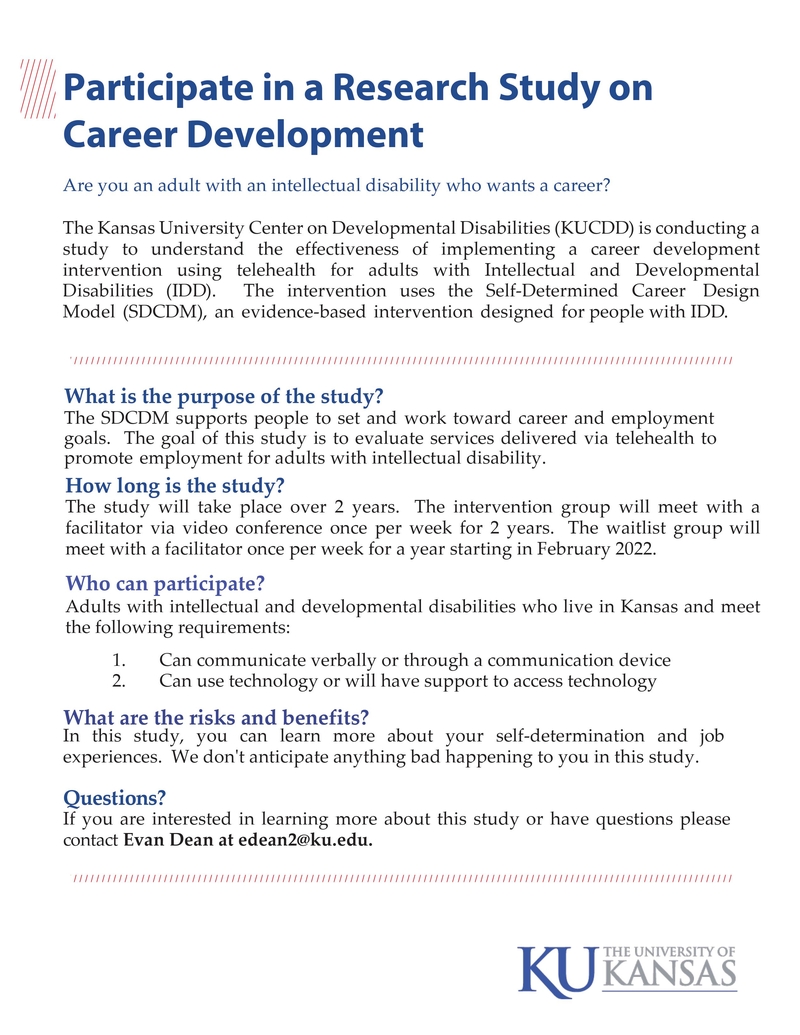 University of Kansas
Suma Suswaram is recruiting parents, guardians, and adult caregivers of children with Autism Spectrum Disorder (ASD) for a study that examines the relationship between caregivers' stress and child communication skills. To participate, the parents must be the primary caregiver of children between the age of 4-10 years, with a confirmed or suspected diagnosis of ASD, speak less than 30 functional words, and live in the Midwestern states. Functional words are defined as words used to communicate needs and wants without the need for prompts (spontaneous speech). Participation will include 4-hour interview, divided over 2-3 days (or depending on the parents' availability). Post participation, the child's communication assessment reports will be shared with the parent. If you or anyone you know might be interested in participating, please contact suswaram_suma@ku.edu.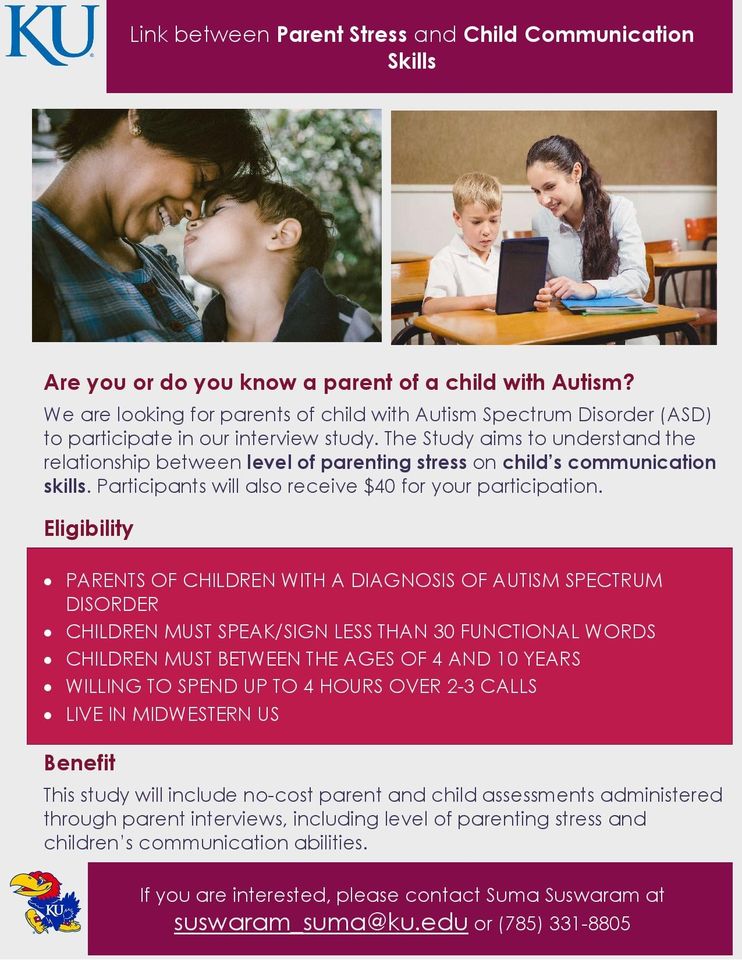 SPARK
SPARK—a landmark autism research project—aims to make important progress possible. SPARK stands for 'Simons Foundation Powering Autism Research for Knowledge,' and the mission is simple: they want to speed up research and advance our understanding of autism to help improve lives. If you or your child has a professional diagnosis of autism spectrum disorder, learn more about SPARK here.
SPARK works with research partners from all over the world to engage families and adults with autism in research studies. All of the studies are evaluated for scientific merit, and a SPARK scientific committee approves them.
SPARK matches participants with research studies based on characteristics such as age, diagnosis, medical history, location and more. Some of these studies are online, and some are in person.
SPARK does not share any information with researchers until participants give their permission. Participants in SPARK are always in control.
Children's Mercy Hospital
*There are no current studies through CMH applicable to our members.
We believe breakthroughs happen when the walls between research and medicine are eliminated, allowing researchers and physicians to work side by side. This commitment is leading to new ways to treat, diagnose and even prevent complex childhood diseases. Each day, we're bringing innovations from bench to bedside and beyond to improve outcomes for children here and around the world.
The Children's Mercy Research Institute (CMRI) is creating an integrated research environment where no boundaries exist between science and medicine. In our quest to find answers to pediatric medicine's most challenging questions, we are collaborating with physicians, scientists, academic colleagues, philanthropic partners and others within our community, and around the world. Our research programs focus on areas such as genomics, clinical pharmacology, immunotherapy and health outcomes.
Southwest Autism Research and Resource Center
Established in 1997, the Southwest Autism Research & Resource Center (SARRC) is an internationally recognized nonprofit that conducts innovative research, provides evidence-based practices, disseminates effective training and builds inclusive communities for individuals with autism and their families. SARRC is dedicated to autism research, education, evidence-based treatment, and community outreach. Additionally, SARRC is one of the only autism organizations in the world that provides a lifetime of services for individuals and their families while also conducting cutting edge research.