Saturday Seminars
Autism Society-The Heartland will host a monthly event known as Saturday Seminars. This is typically an event that lasts two hours to allow members of ASH and other caregivers in the area time to meet other parents and join in a presentation related to the autism community.
Some of the topics we have included, and hope to include, are: social skills, siblings and sibling rivalry, nutrition, therapy animals, jobs, books by autistic authors, and resources for adults on the spectrum.
If there is a specific topic you would like addressed, please call or send an email to info@asaheartland.org, and we will try to address that topic in an upcoming presentation.
Please check the Calendar of Events and our Facebook page regularly to stay updated on all our upcoming Saturday Seminars throughout 2021.
Below you will find webinars of our past Saturday Seminars. Enjoy!
Register for our upcoming February 2021 Saturday Seminar here!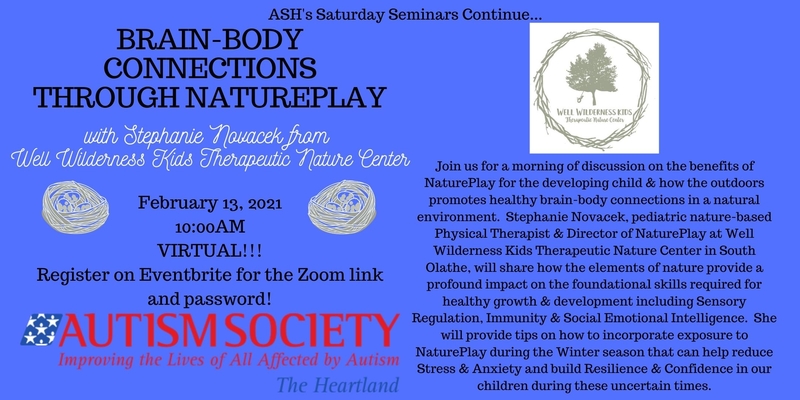 January 2021: Dental Considerations for Patients with Autism Spectrum Disorder with Dr. John Fasbinder, D.D.S. from Community Health Center of Southeast Kansas and with Jeff Glasco, CRNA, A.S.A. from Advanced Specialty Anesthesia.
This Saturday Seminar focuses on dental related issues for patients with special needs, particularly those with Autism Spectrum Disorder. Personal hygiene tips and products are shared by Dr. John Fasbinder, D.D.S. and Jeff Glasco, CRNA, A.S.A. to promote oral health at home. There is also information about professional care including expectations of treatment, ability to treat, and sedation. Finally, there there are questions and answers with the experts!
October 2020: What Does Good ABA Look Like? A Review and DIscussion with Christie Stiehl from Stiehl Behavioral Consulting, LLC.
This Saturday Seminar addresses how ABA agencies and services come in all shapes and sizes and how it can be difficult for caregivers to navigate which, if any, ABA services may benefit their learners. This event first reviews critical components of quality ABA services and concludes with an open discussion of considerations for caregivers (not part of the recording to maintain confidentiality).
September 2020: Special Education Law - Tactics In Advocacy with Ben Brockert, JD from Brockert Legal Services.
This seminar focuses on when you feel like you are in a constant battle with your child's school with the founder of Brocket Legal Services, Ben Brockert, JD. The workshop teaches you how to leverage your position as a caregiver of a student with special needs in an efficient and effective manner. If you are interested in receiving a copy of the checklist in this video, please email ashofficeasst@gmail.com.
August 2020: What Is Regulation and How Can We Help a Child Self-Regulate with Brookes Barrack and Emily Tritz from KC Developmental Therapies.
The co-founders of Kansas City Developmental Therapies, Brookes Barrack, MS CCC-SLP and Emily Tritz, OTD, OTR/L, focus this seminar on a brief description of regulation, the importance of self-regulation, and how regulation typically develops. They give strategies to help foster language comprehension and self-regulation skills.
July 2020: Transition Services and The IEP: Building The Dream with Leia Holley from Families Together, Inc.
Transition planning as part of the Individualized Education Program (IEP) is crucial in increasing successful outcomes for life after high school. This workshop is a must for parents with a youth 14 or older; it will help parents discover how the transition plan can (and should) reflect their youth's dreams for his/her future. Participants will learn how to effectively use transition services in the IEP to prepare for the future.
June 2020: Special Needs - Pediatric to Adult Transition with Dr. Laura Gaffney from AdventHealth
This seminar will focus on discussing the transition from pediatric to adult care and negotiating the adult world of medicine. Laura Gaffney, MD, is the medical director of the Special Pediatric-to-Adult Need (SPAN) program through AdventHealth Medical Group. This program is Kansas City's only primary care program that provides a consistent, reliable medical home.