Leadership
The Board of Directors is currently looking for members of the community to fill vacant spots. If you are interested in finding out how to join please contact info@asaheartland.org.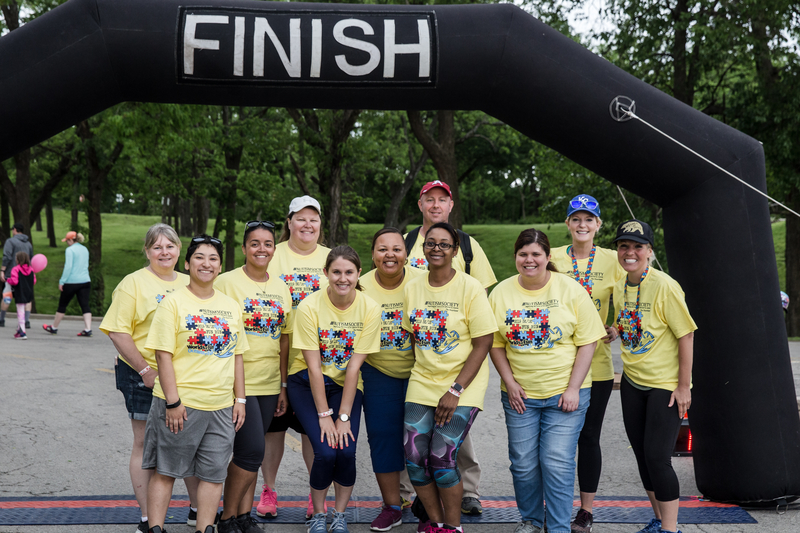 Board of Directors 2022
President
Samantha "Sam" Silvey
Sam has her Bachelor of Arts in Communication Studies from the University of Georgia as well as her Masters in the same subject from the University of Kansas. She has been working in the non-profit sector as the Executive Director of the Greater KC Dental Society, the local chapter of the American Dental Association, for over fifteen years. She and her husband, Jason have two sons, Barrett (11) and Brooks (10). Brooks was diagnosed with ASD around 2.5 years old. Sam is inspired by her sons everyday and loves to advocate for and be involved with the autism community to help spread support, awareness, and camaraderie. In her spare time, Sam loves to run, and often does 5 & 10Ks with both boys.
Vice President
Andrew Glover
Andrew has a Bachelor of Science degree in Biomechanical Engineering from the University of Missouri and a Master of Engineering in Mechanical/Systems Engineering from Colorado State University. He has worked at Parker Hannifin since 2012 and today acts as the Leader of Digital Operations & Products for the Engineered Materials Group specializing in; Embedded Electronics, Factory Automation/Manufacturing, Networking/Cybersecurity, and Cloud Computing. He has lived much if his life in the Kansas City Metro Area and has 2 children: Isabella (9), and Elias (7). He was formally diagnosed with ASD at age 31 in July of 2020 and has since chosen to dedicate his life to helping teenagers and young adults, and their families, better understand their ASD diagnosis and prepare for adult life. In his spare time, he enjoys visiting museums (especially those related to Space Travel) with his children as well as many outdoor activities.
Secretary/Treasurer
Alex Lemcke
Alex received his undergraduate degree from Saint Louis University in Health Management and Policy. After graduating, he completed his Master's degree in Health Services Administration from The University of Kansas Medical Center and currently works in Healthcare Strategic Planning. Alex's passion for Healthcare comes from watching his older brother with Autism, Michael, receive various forms of care growing up. He previously worked at Wings, a special needs community based in Oklahoma, for four summers after training with occupational therapists in Applied Behavioral Analysis (ABA). Alex enjoys spending his free time with his friends and family, sports, and traveling.
Asst. Treasurer
Wesley Phillips
Wes earned his Horticulture degree from the University of Arkansas. He has been married to his wife, Amanda, for ten years. Their twins, Aiden & Eliana, turned six in December and both have been diagnosed with ASD. Raising two children who are on different parts of the spectrum has been both challenging and rewarding, and he enjoys the opportunity to give back to the Autism community. Wes has owned his insurance agency for about five years. Prior to that, he was a Golf Course Superintendent. In his free time, he enjoys playing golf and riding motorcycles. He also enjoys taking part in many local charities, including the Rattlesnake's Ride for Autism for the last four years.
Board Members
Nan Perrin
Nan is a Doctoral level Board Certified Behavior Analyst (BCBA-D) and has graduate degrees in Human Development and Special Education from the University of Kansas. She has worked with individuals with autism since 1990. Nan currently works for an insurance company as a director of a program to support members with IDD and Autism to achieve their highest quality of life. Nan's passion continues to be working with children, families, schools and providers to reach the best outcome for individuals on the spectrum. Her primary areas of focus are autism, positive behavior support for individuals and families, as well as policy and systems change. Nan was also appointed to the Kansas Governor's Commission on Autism as the BCBA member.
Tammy Scherer
Tammy is the mother of 3 children; the youngest is diagnosed on the Autism Spectrum. She was a Foster Parent from 2000 to 2013. She volunteers as an Education Advocate for the state of Kansas through Families Together, Inc., serving children currently in the State's custody in Johnson and Wyandotte County. She is an active Member in the PTA and in ABATE. (ABATE is a motorcycle rights organization that brings attention to issues affecting riders. They are also involved in safety training and charity work. The acronym ABATE stands for American Bikers Aimed Toward Education.) Tammy is also instrumental in organizing several fundraisers a year for Autism Society – The Heartland. Her family has two mottos they try to follow. "Be Silly - Be Honest – Be Kind" and "If you don't have anything nice to say, don't say anything at all".
Kathleen Livingston
Kathleen is currently a nanny for two wonderful families, and had previously taught third through sixth grade for five years. Originally, she is from Illinois which is where her parents and younger sister (with mild cerebral palsy) still live. Kathleen finished her undergraduate degree at KU and finished her masters in Literacy Studies at UTA. Kathleen has worked with students from all backgrounds and abilities in her classrooms, and strives to help all students succeed. She hopes her next job will allow her to continue to work with children and/or in nonprofit. In her spare time, Kathleen loves to travel, eat out with good company, and watercolor.
Christie Stiehl
Christie Stiehl (she/they) is a Board Certified Behavior Analyst (BCBA) and Licensed Behavior Analyst (LBA) in Kansas and Missouri. Christie has served as an advocate and service provider for the ASD community since 2005 across California, Illinois, Texas, and Kansas. Christie provides ABA services to individuals and families in Lawrence, KS through her practice, Stiehl Behavioral Consulting, LLC. They live in Lawrence with their partner and two cats.
Jessica Bennett
I have been Board Certified Behavior Analyst for 3 years, specifically in early intervention. For the past 12 years I have been in the ABA field working in home, in clinic settings, and within school districts. Additionally, I have been a volunteer facilitator for the ASH parent support group for the past 2 years. Over the years I've developed a passion for parent support and community involvement and expanding social skills for those with autism. In my free time I love to read, spend time outside with our 2 dogs and going to movies with my husband.
A special THANK YOU to all of our past volunteer board members and past paid staff members. We truly thank you for your service to the autism community.