Aces 4 Autism
Join Autism Society - The Heartland in 2021 for our 3rd annual Aces 4 Autism volleyball tournament at Volleyball Beach! Teams will come together to raise money for our mission of improving the lives of all affected by autism on August 28, 2021. Check-in will open at 4:00 p.m., with the first round of games starting at 5:00 p.m. There will be a competitive bracket for teams who have done this before, and a recreational bracket for teams new to the tournament scene. All are welcome to cheer on their teams! All registered players will receive an event t-shirt and favor bag!
Registration will be live starting June 1, 2021!
Teams:
Teams must have a minimum of six players and may have up to a maximum of eight players to include two substitutes. Only six players will be allowed on the court at a time. Volleyball Beach requires that teams be co-ed: meaning there are as many women as men on the team (there can be more women than men).
Teams are $160 for six players. Additional players must register as individuals for $30 per person. Late team registration, the day of the event, is $180 for six players. There is an initial captains fee of $30 to register, and all additional payments will be due by 4:45pm the day of the event. If payment is not paid in full by this time, the team forfeits the tournament and will not receive a refund or t-shirts.
Individual tickets are available and are for those participants not registering with/as a team and would like to be added to another team that is short on players, or to create a new team of individual players. Individual tickets are $30 per person. Late individual registration the day of the event is $40 per person.
All players will be required to sign a waiver before playing in the tournament.
More Tournament Details:
Prizes will be awarded to the two 1st place teams in each of the tournament brackets: competitive and recreational.
Food and beverages will be available for purchase at Volleyball Beach.
Raffle tickets will be available for purchase at the event for special items and for a 50/50 raffle.
Parking is free of charge.
Please review Volleyball Beach's response to COVID-19 before attending the tournament. We want to ensure all players stay safe and healthy during the event!
Become a Sponsor
If you would like to become a Sponsor for this event, please click here for our 2021 Sponsorship levels and commitment form. You can make Sponsorship payments online here or mail a check with the commitment form to Autism Society - The Heartland, P.O. Box 4455, Olathe, KS 66063. To email the commitment form or for more information about sponsoring this event, please contact ashfundraisingcoord@gmail.com.
If you would like to donate to Autism Society - The Heartland to support our mission, please click here.
Previous Aces 4 Autism Events: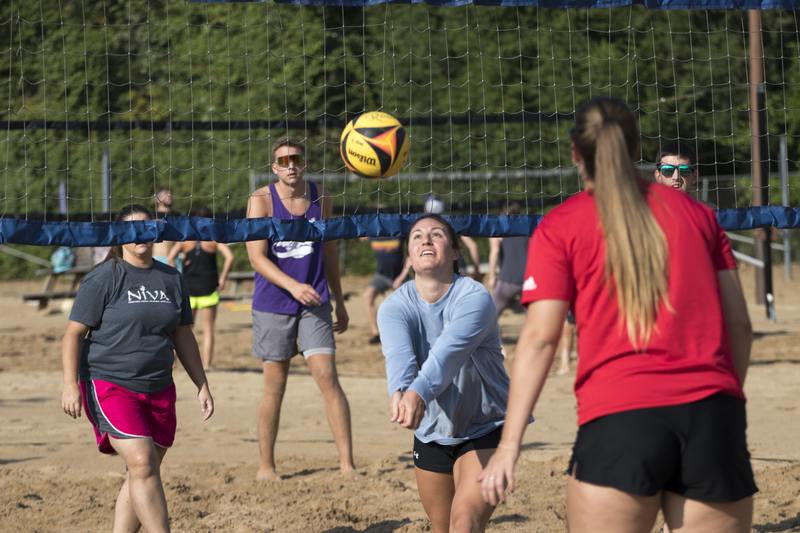 2020 Aces 4 Autism